The Skill India campaign was launched on 15 July 2015 by MSDE (Ministry of Skill Development and Entrepreneurship) on International Youth Skills Day. The main objective of this campaign is to create opportunities for the youth of the country and to provide employment based on the skill they acquire.
Just Like the Startup India, Skill India too focus on youth of India. The objective of this campaign is to employ about 40 crore youth of the country by training them in the career of their choice by 2022.
By whom and why was this scheme was Introduced ?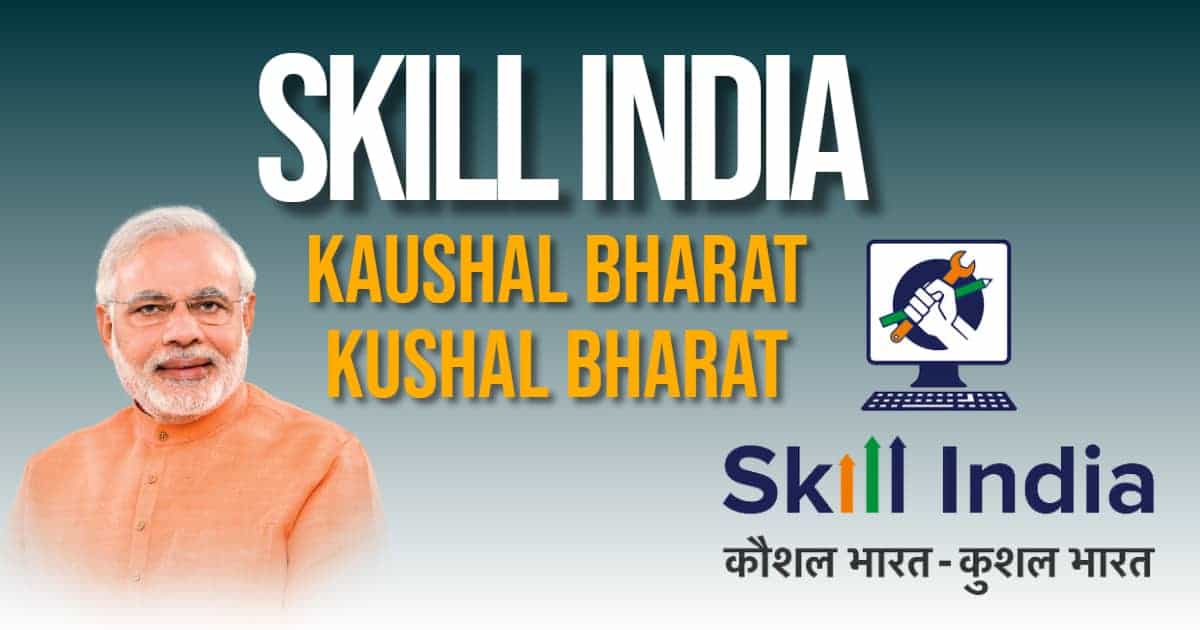 The current Prime Minister "Shri Narendra Modi Ji" started many schemes like "Digital India," "Make in India." His sole purpose in starting all these schemes is to propel the country towards development so that the country does not lag behind other countries in the matter of development.
Therefore, he started the Skill India campaign to train the youth of the country on the lines of Make in India, Digital India, the main objective of this campaign is to train all those youth skills in the country and create employment opportunities.
Some of the Important things related to Skill India are as follows :
| | | |
| --- | --- | --- |
| S. No. | Point | Headlines |
| 1 | Name of Scheme | Skill India |
| 2 | Planning Area | Skill Development |
| 3 | Scheme Launch Date | 15 July 2015 |
| 4 | Scheme launched | By Prime Minister Shri Narendra Modi |
| 5 | Ministry of Management | Ministry of Skill Development and Entrepreneurship |
| 6 | Plan head | Rajiv Pratap Rudy |
Other Schemes added under Skill India Scheme
National Policy for Skill Development and Entrepreneurship
National Skill Development Mission
Prime Minister Skill Development Scheme
Skill Loan Scheme
Rural India Skill
All these schemes have the same logo and the same tag line "Skill India".
Do You Know : What is MSME Loan
'e-Skill India' – Fostering a future-ready workforce digitally by providing training beyond classrooms. #5yearsofSkillIndia pic.twitter.com/Xgr37JzRlE

— Smriti Z Irani (@smritiirani) July 15, 2020
The main goal of the Skill India Scheme
The main objective of the Skill India Scheme Mission is to employ poor children and deprived children of education so that the problem of unemployment in the country can be overcome.
Through this skill India mission, the youth have to build confidence through communication skills to increase their productivity.
Apart from government private and non-government institutions, other external education institutions will also work together to make this scheme successful.
Also Read : What is Education Loan

The hidden talent inside the youth will be encouraged by the Skill India Mission, which can reduce the unemployment rate.
This scheme will also benefit those youth who do not have employment despite having a degree.
Through the Skill India Mission, 40 crore youth will be trained and given employment, and this will also increase the per capita income of the country.
By employing people, and by providing them food and water will be beneficial, which will also improve their health.
Also read : What is GDP
Become a Corona Warrior & join India's fight against Covid! Skill India's Covid Healthcare Crash Course Programme offers 6 short-term courses in the healthcare sector. Get on-the-job training & a stipend while you learn. For more details, call 8800055555. #Skill4HealthyIndia pic.twitter.com/v7WzBpPyuV

— Skill India (@MSDESkillIndia) August 27, 2021
Specialties of Skill India:
Under this scheme, the country's youth will be trained in such a way that only they can get employment easily, or they can establish their own business and provide employment to other youth.
This campaign will provide training for traditional jobs like plumber, electrician, fashion designer, solar plant, computer hardware and software, marketing skills, magnification, cobbler, blacksmith, nurse lab technician, etc. After training from Skill India, you can get jobs easily, or You could start your business related to your department.
Real estate, transportation, construction, jewelry industry, banking, tourism, and many other areas require students to pay very little attention. So youths will be trained in these areas by motivating them.
The quality of training in this scheme will be of international standard so that the youth of our country can get employment not only in the country but also in other countries like
U. S., Japan, China, Germany, Russia, and West Asia
Another thing is special about this: "Rural India skills"! With this, training given in India will be made uniform and consistent.
Plans will be started according to the native language, age, and needs in which training will be imparted for language, methods of interaction, management, behavior, job, or occupation.
Games, group discussions, practical experiences, and many new ways will be adopted to teach people.
Also Read : NIOS ,National Instute Of Open Schooling

Why was Skill India Started ?
In the old schemes started by the government, only a few selected businesses have been taken care of, but in this scheme, from small business to big business, all the attention was given to how you can professionally do any small business in our country.
Due to the high population, the unemployment rate is high here. Most of the young people live their lives by doing small jobs at a young age, because of this, the government has come up with a Skill India scheme whether any small or big Not every task is big in itself, which makes anyone's stomach if all these youth are trained properly, and they show the right path.
All these youth can contribute their importance in the development of the country! "Skill India" is a major step in this direction.
Also Read : – What is Khelo India Youth Games
Key challenges of Skill India Scheme
The target is to train and employ about 40 crore people by 2022 under the Skill India Mission.
The prime minister skill development scheme provides about 40 technical areas such as construction, electronics and hardware, food processing, furniture and fittings, handicrafts, gems and jewelry and leather technology, computers, plumber. Under this, the goal was to train around one crore youth in four years (2016-20). But so far only about 50 lakh youth have been trained
A budget of Rs 12,000 crore has been set for the Skill India Mission, which will be used to train the youth.
Under the Skill India Mission, more than 3000 centers have been opened in the entire country. Many people have quit their jobs and invested in opening the Skill India Center. Unfortunately, Many centers have been closed due to frequent changes in this policy.
Approximately 57 percent of the placements have been made in the youth trained by Kaushal Bharat Center. In such a situation, it has also come out from the students that many centers cannot provide training to the children properly for their benefit, due to which they are having trouble getting employment.
Also Read : What is Save Daughter Educate Daughter ?
How to register for taking training in Prime Minister Skill Development Center ?
1. In the Prime Minister Skill Development Program, the applicant is required to enroll himself. For this, you have to fill your name, address, and email information by going to PMKVY
2. After filling the form, the applicant has to choose the technical field he wants to learn. PMKVY includes Construction, Electronics & Hardware, Food Processing, Furniture & Fittings, Handicraft, Gems & Jewelry, and Leather Technology.
3. In addition to the preferred technical area in PMKVY, an additional technical area will also have to be selected. After filling this information, you have to choose your training center.
4. After that you can choose the nearest center according to your wish.
Dear Reader,
Formal News has always strived hard to provide up-to-date information and commentary on Centre and State Government Schemes that are of interest to you, your family and your Society. We believe in free, fair and credible information.
Even during these difficult times arising out of Covid-19, we remain committed to keeping you informed and updated.
However, We have a request:
As we battle the economic impact of the pandemic, we need your support even more so that we can continue to offer you more quality content. Your support in the form of Donations will be encouraging for us. Your donation can only help us achieve the goals of offering you even better and more relevant content. Your encouragement and constant feedback can help us to improve our offering. We need your financial support. You can support us through the Patreon Link:
Become a Patron!