Mutual funds are one of the many investment options available in today's time. Mutual funds are a new-age investment option. There are also many funds to invest in mutual funds, in which equity and debt funds are good.
In mutual funds, you can get returns up to twice as much as small savings schemes, FDs, and bank deposits. But many people do not know how to invest in mutual funds, due to which they are afraid to invest in mutual funds.
In this article, we will tell you how to invest in mutual funds, here we will tell you how to start investing in mutual funds.

To start investing in mutual funds, you must first get your KYC done. Only then you can invest in mutual funds. This process of KYC has been initiated by the Securities and Exchange Board of India (SEBI).
If you also want to invest in mutual funds, then you can first get your KYC done through SEBI registered Intermediary, through mutual fund houses, distributors, or online platforms. SEBI has initiated this process to protect its customers from fraud, without KYC, you cannot invest in this platform, thereby confirming your identity as a mutual fund investor.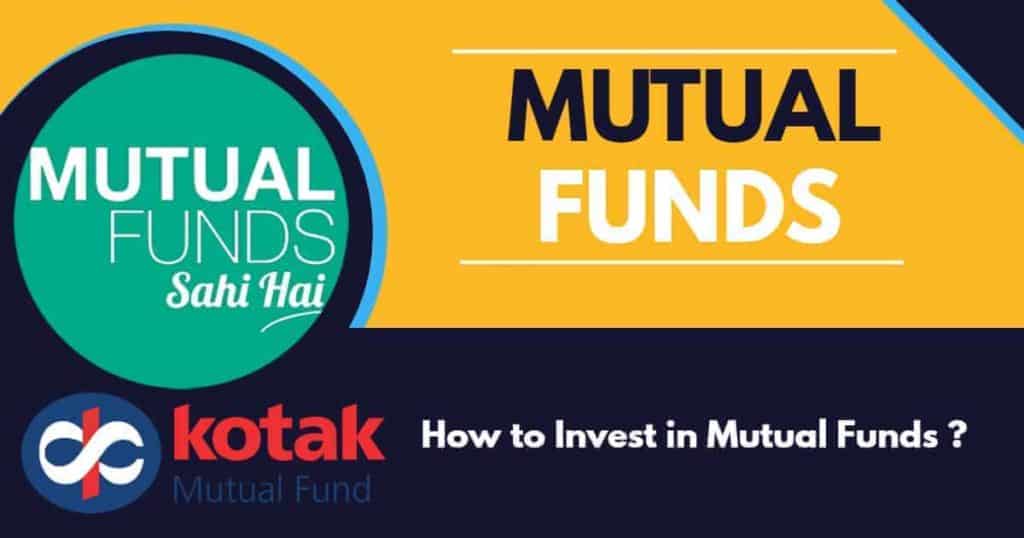 Offline way of conducting KYC
Download a KYC form from any moderator website.
After loading the form, fill the form.
Attach ID-proof self-attested copies of ID and address with the form .
Sign a passport size photo by pasting it on the form.
For verification of this form, you should visit any fund house, RTA (Registrar and Transfer Agent), or Investor Service Center branch.
On the other hand, you have to show the original document for document verification.
To complete the online KYC process:
First, you go to any fund house website.
First of all, you have to fill your personal information.
After filling personal information, you will have to submit a scanned copy of your required documents such as (PAN card, Passport, Voter ID card, Ration Card, or driving license)
Here you will also have to go through a video call.
Some Important documents for Investing in Mutual Funds
It is necessary to have one of the documents like proof PAN card, Passport, Aadhaar card, driving license, voter ID card, for identification.
A currently photographed investor

For address proof, it is necessary to have a document from Aadhaar card, passport, driving license, Ration Card, voter ID card – gas bill, telephone bill, electricity bill.
You must have a bank account to invest and redeem money in mutual funds.

Apart from this, you will also need an email id and a mobile number.
The first way to invest in mutual funds
This method of investing in mutual funds is quite common. In this, an investor can invest money through an agent, but if you are having difficulty in finding a mutual fund agent, then you can also invest in the official website of the company. You can talk to the toll-free helpline number from the website, whatever agent will be in your area, you will be contacted by the company. Then you can invest with the help of that agent.
Another way to invest in mutual funds
To invest in a mutual fund, you can also invest through a broker or any website selling mutual funds. If many investors invest in the stock market, they can also invest in mutual funds through their broker account. Not only this, there are more than a dozen websites in the country that invest in mutual funds to invest in funds.
Any investor can buy mutual funds after visiting the website and getting his registration done. On reading the requirement, this website also sends its agent to investors for help.
The third way to invest in mutual funds
To invest in a mutual fund, you can also invest in a direct plan. Following the new rules of SEBI, all mutual fund companies also offer the option of a direct plan in all their schemes.
The investment process in such a plan is completely online. Investors can also choose the scheme directly by visiting the mutual fund company's website and can complete the investment process in a few steps. Payments also have to be made online here.
The fourth way to invest in mutual funds
If you want to invest in mutual funds and you do not know about mutual funds. You can also take the help of any mutual fund experts before investing in mutual funds.
Due to incomplete information, you may also suffer loss. But if you have a good idea about investing, then you can invest in it by looking at a good plan of a mutual fund.
In this type of mutual fund, you can get higher returns than other methods. The big reason for this is that in this you do not have to pay commission to any agent, due to which it becomes possible to get a little more return.
Some Investment Platforms
Mutual fund house (online, offline, mobile app): You can invest in an AMC (Asset Management Company) office or by visiting the fund house website but if your KYC process is not complete then you do not invest You can, but if your KYC process is complete then you can start investing. Some mobile applications are also available to invest in the fund of an asset management company, through which you can easily invest.
RTA: You can go to any SEBI registered RTA (Registrar & Share Transfer Agents) and after filling your application form there, you can start investing by submitting a check or bank draft at the branch office.
Investor Services Center ISC: These are physical branch offices of mutual funds or RTAs in different parts of the country. You can start your investment through these centers.
Fintech Investment Platforms: Online mutual fund aggregators or third-party platforms (such as Groww, Scripbox, and Fundsindia) are mutual fund platforms like RTA. They provide the facility to invest and operate through its website and applications. Not only this, but you can also start investing in mutual funds through direct and stock exchange through the Demat account.
Why invest in mutual funds?
Managing mutual funds is quite easy. You can buy or sell mutual funds at any time, but you cannot buy bank FD, PPF, or insurance on government holidays or Sundays.
You can also start by investing less in mutual funds and buying cheap stock bonds. Whatever mutual fund you invest in, no money is invested in one of those funds. Rather, investment is done at different places so that in one area there is a recession, to make a profit from another area.
In mutual funds, the mutual fund expense ratio is usually 1.5–2.5% of your investment. The expense ratio is those fees. Which you give to AMC to manage your fund (investment). This is less because many people invest in a mutual fund and this fee is known among all.
Because mutual funds are regulated by SEBI (Security Exchange Board of India) and their NAV (Net Asset Value) or price is announced daily. Their portfolio is also announced every month and various information about them is also given to the public.
Mutual funds invest in money market shares collected by their equity schemes. It is considered difficult to predict anything about the stock market.
For this reason, equity mutual funds are also considered to be slightly risky. But experts say that good returns can be obtained if a little money is invested for a long time.
Some important things about mutual funds
Equity schemes of mutual funds are a bit risky as they are directly linked to the stock market
There may be some risk in the equity scheme but despite being risky, you can get good returns
Any mutual fund experts always recommend investing for a long time
After investing in mutual funds, keep checking your investment portfolio from time to time.
Investing in mutual funds is a bit risky, so it is better to have an expert
Start investing with advice
You can also invest in mutual funds through SIP. With this, you can invest a little bit every month.
In this article, we have given you complete information about investing in mutual funds, how you can invest in mutual funds, and in this article, we have introduced you to all the things that you need while investing in mutual funds.
If you like this information, then you can also tell us by current and also share this information with others so that they too can get to know about this mutual fund business.
Dear Reader,
Formal News has always strived hard to provide up-to-date information and commentary on Centre and State Government Schemes that are of interest to you, your family and your Society. We believe in free, fair and credible information.
Even during these difficult times arising out of Covid-19, we remain committed to keeping you informed and updated.
However, We have a request:
As we battle the economic impact of the pandemic, we need your support even more so that we can continue to offer you more quality content. Your support in the form of Donations will be encouraging for us. Your donation can only help us achieve the goals of offering you even better and more relevant content. Your encouragement and constant feedback can help us to improve our offering. We need your financial support. You can support us through the Patreon Link:
Become a Patron!