Swami Vivekananda scholarship is given by the West Bengal government. This scholarship is given to those students who cannot continue their studies due to financial reasons.
This scheme is also known as swami Vivekananda merit cum means scholarship. In this article, we are going to give you detailed information about this.  
Swami Vivekananda Scholarship 2023

This scholarship is started for those students of West Bengal who cannot continue their education because of financial crises. Swami Vivekanand merit cum means scholarship is funded by the West Bengal government. This scheme is fulfilling the dreams of many bright students who can leave their education because of lack of money.
Official information about the scheme
Scheme Name
Swami Vivekananda Merit cum means scholarship
Operated by
West Bengal government
Target
Providing financial help to students to study further and
fulfill their dreams
Beneficiaries
Students of West Bengal state
Required documents
Aadhar card
Voter id card
Ration card
Income certificate
Domicile certificate
Bank passbook
Passport size photo of the applicant
Mobile number
Eligibility criteria
Applicant must be a resident of West Bengal.
An applicant's family income must not exceed 2,50,000 rupees annually.
Students from higher secondary to post-graduate levels can apply for this scholarship.
Must read: PFMS scholarship
The online application portal for SWAMI VIVEKANANDA MERIT-CUM-MEANS SCHOLARSHIP SCHEME 2020-21 will be unveiled by Dr. Partha Chatterjee, Hon'ble Minister-in-charge. The programme will be streamed live on Facebook page from 2 PM. We welcome all to join us. pic.twitter.com/OhOlA6mfB3

— School Education Department, West Bengal (@BanglarShiksha) October 7, 2020
Required marks for applying to the swami Vivekananda scholarship
| | |
| --- | --- |
| Higher secondary | 75% |
| Diploma | 75% |
| Undergraduates | 75% |
| Postgraduates | 55% |
Amount of scholarship under swami Vivekananda scholarship scheme
| | |
| --- | --- |
| Higher secondary | Rs 1000 to 1500 |
| Undergraduates | Rs 1000 to 1500 |
| Postgraduates | Rs 2000 to 2500 |
| | |
Do you know about the UP Government's free coaching scheme?
How to apply for the Swami Vivekananda scholarship?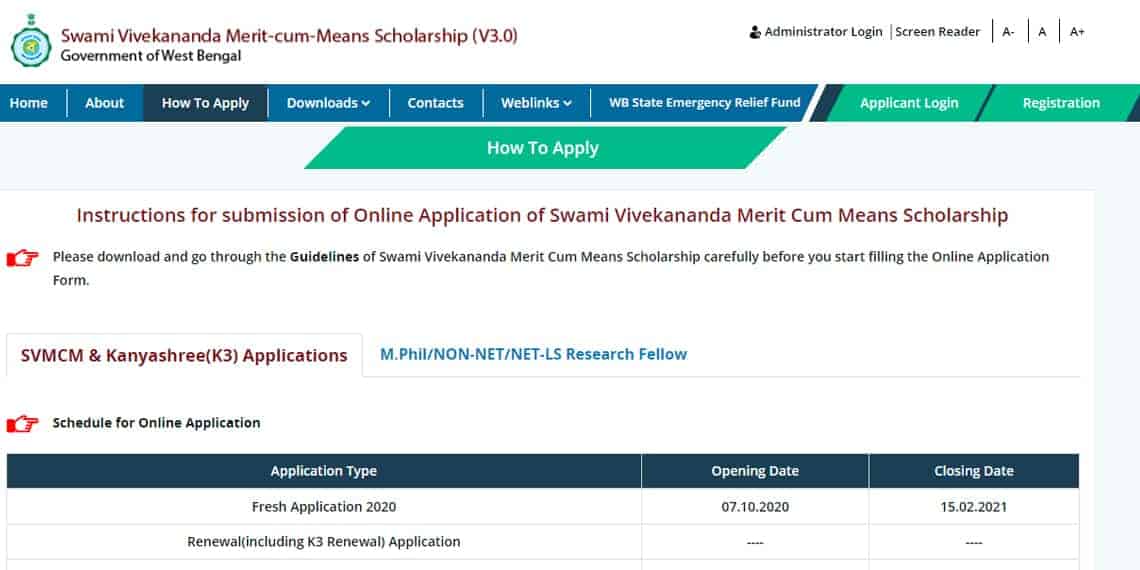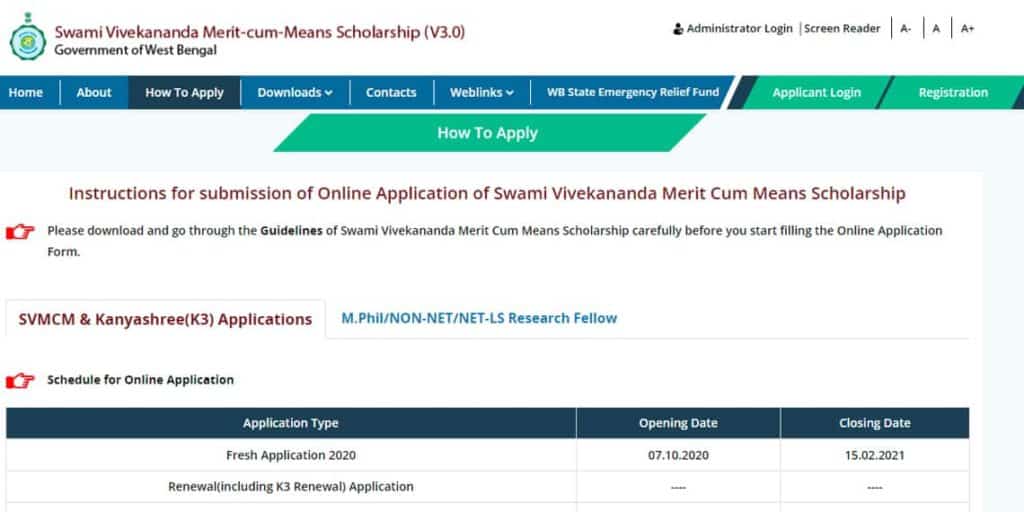 Then a registration form will appear on your screen.
Now enter all the asked details here like name address mobile number etc.
After registration, an application id will be generated.
Then login with this id and password.
Fill in the application form.
Upload all the required documents with it.
After this click on the submit button.
Also read: Aikyashree scholarship
How to login in Vivekananda scholarship?
After a new page will open enter your applicant id and password here.
Then click on the submit button.
After all of this information, if you still have some kind of doubt then there are ways to contact the officials of this scholarship.

Ways of contact
Official website
This is the end of this, hope you liked it. If you liked it then share it and if there are some questions or suggestions for us then below is a comment box.

Dear Reader,
Formal News has always strived hard to provide up-to-date information and commentary on Centre and State Government Schemes that are of interest to you, your family and your Society. We believe in free, fair and credible information.
Even during these difficult times arising out of Covid-19, we remain committed to keeping you informed and updated.
However, We have a request:
As we battle the economic impact of the pandemic, we need your support even more so that we can continue to offer you more quality content. Your support in the form of Donations will be encouraging for us. Your donation can only help us achieve the goals of offering you even better and more relevant content. Your encouragement and constant feedback can help us to improve our offering. We need your financial support. You can support us through the Patreon Link:
Become a Patron!