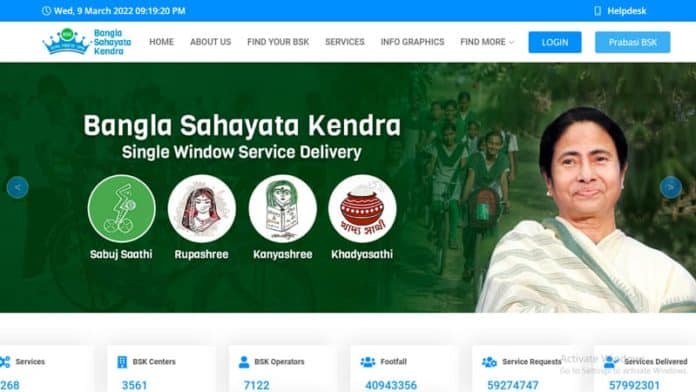 The government in India of every state is initiating efforts in trying to help every citizen of the country by launching some of the other schemes. Similarly, the 'Bangla Sahayata Kendra', a free-of-cost service or scheme, has been launched by the state government of West Bengal. This scheme would help all the citizens of the state to take benefit of all the schemes with almost no fee.
For the development of the state of West Bengal, many schemes have been launched by the government like the Joy Bangla Pension. And this time they've come up with the Bangla Sahayata Kendra where all the citizens can apply for schemes with no nominal fee.
The government has also launched an online portal to extract information about this scheme. Today we are also going to give all the details about this scheme like all the benefits, eligibility criteria, registration process, about all the schemes, etc.
Official Information
| | |
| --- | --- |
| Scheme Name | Bangla Sahayata Kendra |
| Launched by | Chief Minister of West Bengal |
| Beneficiaries | All the residents of the state |
| Official website | bsk.wb.gov.in |
About Bangla Sahayata Kendra
The Bangla Sahayata Kendra was launched by the Chief Minister of West Bengal. The Bangla Sahayata is a center or Kendra which would help all the citizens to avail the services offered by the government. The Bangla Sahayata Kendra or BSK is a service program and everyone can take benefit of the services offered and the process would be free of cost.
All the citizens can get their work done through these centers or Kendra. Now, everyone can have advantages of the welfare schemes which have been started by the Chief Minister of the state. By visiting these centers, the citizens can gather information for whichever scheme they want to apply for or get registered for. Must Read : Swasthya Sathi Scheme West Bengal's Smart Health Card
Benefits of Bangla Sahayata Kendra
Through the Bangla Sahayata Kendra, all the citizens of the state are able to apply for various welfare schemes.
All the services offered under the Bangla Sahayata Kendra would be free of cost to everyone.
These centers are going to be open for all the residents of the West Bengal state.
All those people who don't have the internet to apply for any welfare schemes can now apply through these centers.
Lists of Services Offered
Below are all the services offered under the Bangla Sahayata Kendra:
Health or the family welfare department list
Kanyashree: this is the scheme for all the girls to get a better education.
Sabuj Saathi: this scheme would provide bi-cycles to all the students from classes 9th to 12th. This would result in the maximization of retention cases. Also Read : WB Bina Mulya Samajik Suraksha Scheme : Benefits Without Spending a Single Penny
Yuvashree: this scheme will employ all those who are unemployed in the state.
Rupashree: this scheme will provide one-time financial assistance to all those who are economically backward and want to do the marriage of their daughters.
Swasthya Sathi: every family pan-India would receive a health insurance coverage of Rs. 5 lakhs under this scheme.
Gatidhara: this scheme will provide all the unemployed youth opportunities for employment in the transportation sector.
Khadya Sathi: this scheme helps in providing food and 90.6% of the population in West Bengal is having food and nutritional security.
Information Services List
Agricultural Marketing Department: under this department services are provided about Kisan mandi, sufal Bangla price, cultivation, information about the daily market price for farmers, new agricultural subsidy, and Kishan Bandhu scheme.
Backward Classes Welfare Department: all the information about caste certificate, Sabuj Saathi, Sikshashree, Taposali Bandhu, and pension scheme. Also Read : Student Credit Card Scheme : Government of West Bengal
Animal Resources and Development Department: this scheme will provide information related to dairy and all the livestock schemes.
Consumer Affairs Department: this department is going to provide information regarding consumer rights and WBRTPS info.
Cooperation Department: this department will provide information related to cooperative society finance, and all the cooperative info.
Free Services List
Agricultural Department: under this department services offered are -application credit link subsidy CHC, financial support scheme for farm mechanism, one-time assistance to small 38, and all the marginal farmers for implementation of small farms. It'll also include services of farmer pensioner ex-gratia, farmer pensioner legal heir, crop condition report, and crop cutting data upload.
Agricultural and Marketing Department: under this department, the services processed are – all the applications of e-permit od agrimarket, online marketing about farming, and farm produce registration and transport for safal Bangla.
CMO Grievance Cell: Bangla Sahayata Kendra helps in addressing all the public grievances to CMO. Also Read : West Bengal Joy Bangla Pension Scheme
Checking List of Bangla Sahayata Kendra
Firstly, visit the official website of the Bangla Sahayata Kendra.
Go to the homepage and select the 'centers' option there.
A new page will open where the list of all the centers would open.
And that's how you can check centers available for the Bangla Sahayata Kendra.
Procedure to Login on the Website
Firstly, visit the official website of the Bangla Sahayata Kendra.
Then go to the homepage and select the option of 'login' here.
A new page would open on your screen. You need to fill in your username, and password.
Lastly, select the 'login' option and you'll successfully get logged in on the portal. Duare Sarkar Camp List
How to Register under Bangla Sahayata Kendra
Start by visiting the official website and go to the homepage.
On the homepage select, the 'register' option, and a new page would open.
Here you need to fill in all the required information whatever is asked.
Then you also need to attach all the necessary documents with the form.
Finally, select the option of 'register' and you'll get registered for the scheme.
Also Read : Begum Hazrat Mahal National Scholarship for Minority Girls
Eligibility Criteria
The applicant should belong to India.
The applicant must have passed class 12th or should be passed from a recognized board or council of education.
If possible, the applicant has received computer training from any renowned computer center.
Documents Required
Aadhar card
Date of birth proof
Colored passport size photograph (should not be older than three months)
Last education qualification certificate
Applicant's signature
Contact Details
Phone number: +91 3322170027
Technical assistance: bskpmu@gmail.com
Email Address: support.bsk14524@sbi.co.in
Conclusion
So, this was all for this article about the Bangla Sahayata Kendra and what all schemes are under these centers. Now, you can easily apply for these services through these centers. Must Read : YSR Cheyutha Scheme Helping Women Financially
We hope all this information has been helpful for all of you. Thank you!
Dear Reader,
Formal News has always strived hard to provide up-to-date information and commentary on Centre and State Government Schemes that are of interest to you, your family and your Society. We believe in free, fair and credible information.
Even during these difficult times arising out of Covid-19, we remain committed to keeping you informed and updated.
However, We have a request:
As we battle the economic impact of the pandemic, we need your support even more so that we can continue to offer you more quality content. Your support in the form of Donations will be encouraging for us. Your donation can only help us achieve the goals of offering you even better and more relevant content. Your encouragement and constant feedback can help us to improve our offering. We need your financial support. You can support us through the Patreon Link:
Become a Patron!