Make in India Mission 2023
The Make in India mission was started by Narendra Modi ji on 25 September 2014 at Vigyan Bhawan. Under this mission, Modi ji's objective is to manufacture the everyday items used in people's lives in India.
A workshop was organized by the Department of Industrial Policy and Development on 29 December 2014 to explain this entire scheme to the public! In which Narendra Modi himself joined, along with him were his cabinet ministers, chief secretaries of all states and leaders of big industries.

The main objective of Make in India is to change the 25 sectors affecting the economy of the country, this will increase employment in the country, due to which the problem of unemployment in the country will also go away, and the attention of all big investors abroad will be focused on us.
Scheme Objective
| | |
| --- | --- |
| Mission Name | Make in India Mission |
| Beginning | 25 September 2014 |
| Launched by | Prime Minister Narendra Modi |
| The objective | manufacture of all goods in India |
| How many areas were included | 25 areas |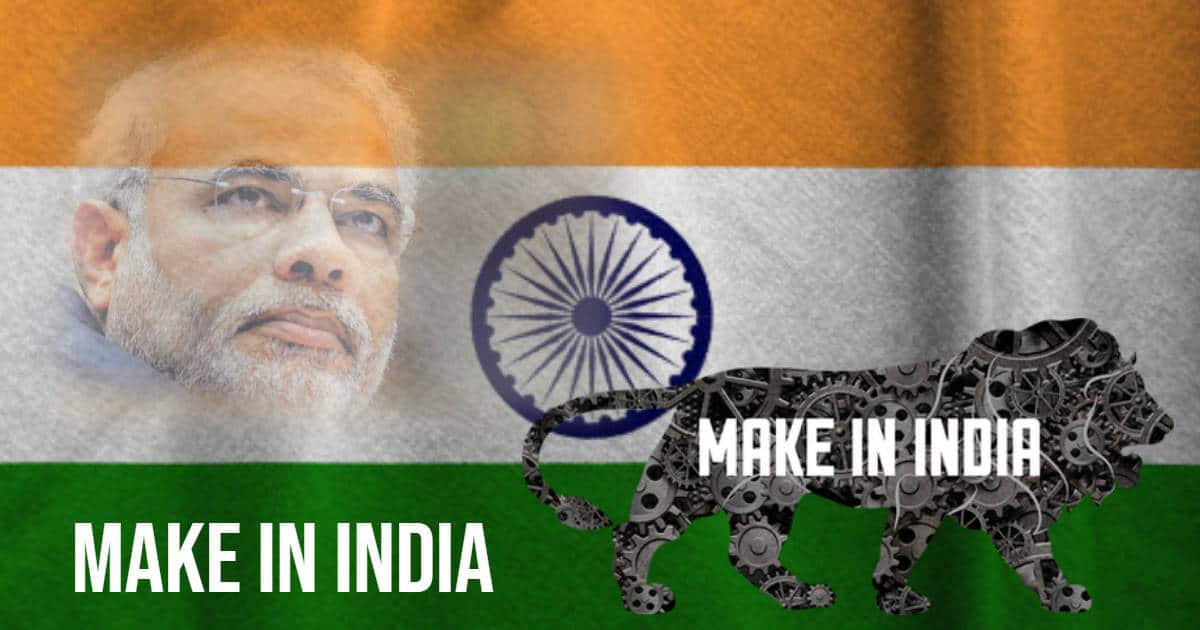 Under this mission, more and more equal will be made in India, due to which the price of the same will also be reduced and the export of the same to other countries will benefit the country's economy.
When more and more are made equal inside the country, it will increase employment in the country, poverty level will be reduced.
When the goods are manufactured inside the country, then it will save tax like the goods coming from outside, so that you will get good quality goods at a lower price.
Also Read : What is Startup India

Due to the creation of the same in the country itself, investors from other countries will come to our country and invest money, so that money from other countries will come in our countries, this will also make the country's name famous.
As increasing employment opportunities within the country, youth will not need to go to other countries to work.

There is a plan made on the lines of Swadeshi movement in India. It was started by the Government of India on 25 September 2014.
The main objective of this scheme is to make India a powerful country in the field of product manufacturing in the world by promoting product manufacturing activities in India.
In this scheme, 25 special sectors which have made significant contribution to the economy of the country have been kept, so that foreign companies also Is going to play an important role under the campaign.
Also Read : what is digilocker
The biggest objective of the Make in India scheme is to convert India into a global manufacturing hub. Under this scheme, the Government of India will invite foreign companies to come to India to do manufacturing work. This will also increase employment opportunities within the country.
To make India an Investment Hub, Govt under the leadership of PM @narendramodi has approved setting up of an Empowered Group of Secretaries (EGoS) and Project Development Cells (PDCs) in Ministries/Departments for attracting investments in India #InvestInIndia #NewIndia pic.twitter.com/nA0gCQFr9b

— Make in India (@makeinindia) June 3, 2020
To invite foreign manufacturers into the country, the Government of India has allowed 100% Foreign Direct Investment (FDI) in key sectors of the economy.
As per the current policy, 100% FDI is allowed in all 25 sectors covered under the "Make in India" scheme except Media (26%), Defense (49%) and Space (74%).
| | | | |
| --- | --- | --- | --- |
| S.No | Area | S.No | Area |
| 1 | Automobile | 14 | Media and entertainment |
| 2 | Auto Parts or Automobile Industry | 15 | Minerals |
| 3 | Aviation | 16 | Thermal energy |
| 4 | Biotechnology | 17 | Tourism and Hospitality |
| 5 | Chemicals | 18 | Railway |
| 6 | Construction | 19 | The cloth |
| 7 | Defense construction | 20 | Roads and highways |
| 8 | Electrical machinery | 21 | Space |
| 9 | Electronic Systems Design and Manufacturing | 22 | Harbor |
| 10 | Food Processing | 23 | Oil and gas |
| 11 | IT and BPM | 24 | Pharmaceuticals |
| 12 | Leather | 25 | Renewable energy |
| 13 | Welfare | | |
Under this scheme, by the year 2022 the economy has to generate 100 million jobs in manufacturing related sectors so that no one in the country remains unemployed.
Official website
Disadvantages from Make in India
Make in India is going to have negative effects on many areas.
While the industrial sector is getting a boost from Make in India, on the other hand, the agriculture sector is suffering a lot.
Small businessmen are also suffering under this scheme because it is promoting foreign companies to manufacture products in India. So that foreign companies come and do business in India. Because of this, foreign companies are dominating the small traders of the country, so the small traders are suffering.
It is mainly based on the industries in which the product is manufactured. This leads to high consumption of natural resources like water, land, etc., due to which natural resources are also becoming extinct.
The creation of new companies is being encouraged under Make in India, while agriculture is being neglected on the other hand, under this campaign there is negative impact on the farm barns.
Government Main focus is on manufacturing more and more commodities in India which is proving to be harmful to other economic sectors.
India Becoming a Hub of Innovation!

Climbs to 46th rank 📈 in the Global Innovation Index of @WIPO, a leap of 35 places in just 6 years.

Hon'ble PM @NarendraModi's sustained push for R&D & creation of an enabling ecosystem for startups is helping India innovate for the world. pic.twitter.com/p4qDj34qZf

— Make in India (@makeinindia) September 21, 2021
Must Read :- What is Fastag
Conclusion
Under the Make in India mission, on one hand, manufacturing of goods will strengthen India's economic condition, while new companies will also open in the country, so that the contaminants emitted from the companies will pollute the environment more, which will have an ecologically negative impact on nature.
Dear Reader,
Formal News has always strived hard to provide up-to-date information and commentary on Centre and State Government Schemes that are of interest to you, your family and your Society. We believe in free, fair and credible information.
Even during these difficult times arising out of Covid-19, we remain committed to keeping you informed and updated.
However, We have a request:
As we battle the economic impact of the pandemic, we need your support even more so that we can continue to offer you more quality content. Your support in the form of Donations will be encouraging for us. Your donation can only help us achieve the goals of offering you even better and more relevant content. Your encouragement and constant feedback can help us to improve our offering. We need your financial support. You can support us through the Patreon Link:
Become a Patron!