Friends, everyone knows that India is a country of villages. Hence, majority of the population lives in rural areas. But the problem of employment in villages remains even today. Due to which most of the people living in rural areas are engaged in migrating to cities. To prevent people from migrating, the government has started the MNREGA Scheme.
The central government has taken a big step to stop the migration of people! For this, the government is planning to give employment to people in rural areas itself.
What is MNREGA Scheme ?

The scheme was first started on 2 February 2006 in Anantapur village of Bandwali district of Andhra Pradesh. The scheme was first implemented in 200 districts of the country. But from the year 2008, this scheme was implemented all over India.
The full name of MNREGA is Mahatma Gandhi National Employment Guarantee Scheme, whereas, earlier this scheme was known as National Employment Guarantee Scheme (NREGA) NREGA and now this scheme is known as MNREGA scheme.
This scheme was started by former Prime Minister of India, Dr. Manmohan Singh ji on 2 October 2005, which was renamed MNREGA in 2OOO The scheme was launched by the National Rural Employment Guarantee Act! The main objective of this scheme is to provide employment to people living in rural areas.
Some of the major works under the MNREGA scheme
Various works are done under the MNREGA scheme, out of which some of the major works are as follows.
Different types of housing construction
Minor Irrigation
Gardening
flood control
land development
water conservation
Plantation under drought prevention
Also Read : What is Home loan

Benefits from MNREGA scheme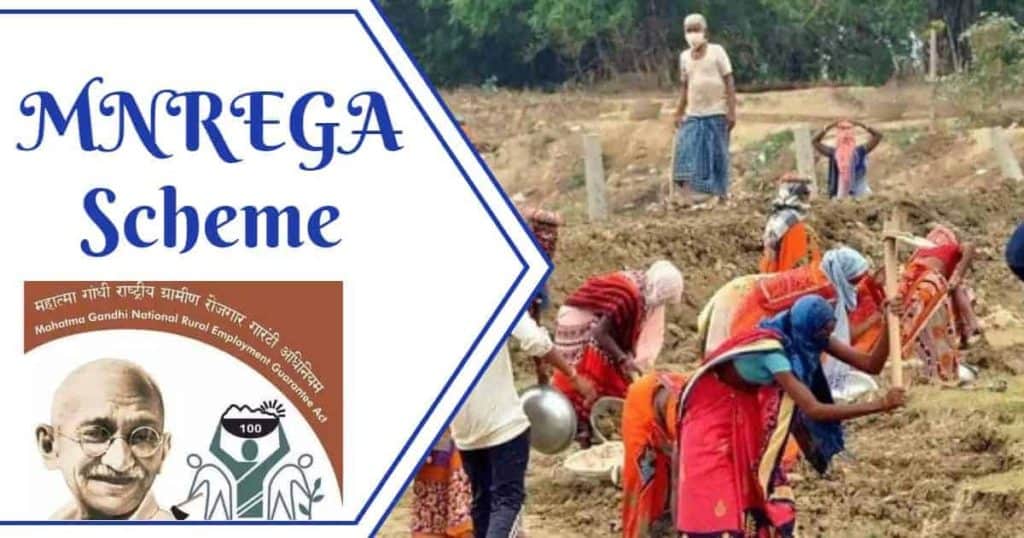 1. The rural people who are covered under the MNREGA scheme will be provided employment in their areas only. To take this scheme further, the central government has guaranteed employment for 100 working days under it.
2.To extend maximum benefits of this scheme to people, Chhattisgarh has increased employment of 150 working days to 100 working days in the state! Because the expenditure of 50 working days has been borne by the state government.

3. The wages of the work done under this scheme are paid through the savings accounts of the bank, post office, in addition to this, you can arrange cash payment as per requirement with special permission.
4. You can apply under this scheme by an adult member of the family. You will be provided employment within 15 days of applying. But if for some reason you cannot get employment within 15 days, then unemployment allowance will also be given by the government till it gets employment. A quarter of the first 30 days is provided in this unemployment allowance and then after 30 days it provides fifty percent of the minimum wage rate.
Do You Know : what is Bitcoin Currency
How much wage is received under MNREGA scheme ?
In this way wages are provided in MNREGA in different states of India.
State wages (Rs. Per day)
Uttar Pradesh 175
Uttarakhand 175
West Bengal 191
Andhra Pradesh 205
Rajasthan 192
Sikkim 177
Madhya Pradesh 174
Tamil Nadu 224
Telangana 205
Tripura 177
Arunachal Pradesh 177
Assam 189
Bihar 168
Chhattisgarh 174
Jharkhand 168
Karnataka 249
Kerala 271
Maharashtra 203
Manipur 209
Meghalaya 181
Mizoram 194
Nagaland 177
Odisha 182
Punjab 240
Goa 254
Gujarat 194
Haryana 281
Himachal Pradesh 184 (Non Scheduled Area)
Himachal Pradesh 230 (Scheduled Area)
Jammu Kashmir 186
Daman and Diu 197
Target Island 248
Ponducherry 224
Andaman and Nicobar 250 (Andaman District)
Andaman and Nicobar 250 (Andaman District)
Chandigarh 273
Dadar and Nagar Haveli 220
Must Read : What is Atal Pension Yojana
Some major achievements of MNREGA scheme
Since its inception in the year 2005, MGNREGA scheme has helped people struggling with poverty in India by providing 100 days Guaranteed Employment.
The MNREGA scheme is the world's largest social welfare scheme so far! In which Rs 3.14 lakh crore was spent in the first 10 years.
The MNREGA scheme has reduced the level of poverty in India by a considerable amount. Therefore, it is called a wonderful scheme of rural development by the World Development Report.
This scheme has helped many women living in rural areas to earn a livelihood as well as social security.
Unemployed youth aged 18-30 got 100 days of employment a year through MNREGA scheme.
MGNREGA scheme helped in employment to people affected by demonetization and GST (Goods and Services Tax).
In this scheme people are provided necessary facilities like clean drinking water and first aid is provided to all the workers. So that they are always healthy to work
This scheme has helped a lot in upliftment of people belonging to Scheduled Castes (SC) and Scheduled Tribes (ST) category.
Also Read : NIOS ,National Instute Of Open Schooling
Objective of MNREGA scheme
The main objective of this scheme is to provide guaranteed wage employment opportunities for the most vulnerable people living in rural areas of India.
The objective of the MNREGA scheme is to enhance the livelihood security of rural poor through the creation of wage employment officers in the pioneering works for the creation of sustainable property.
The objective of MNREGA is to strengthen the natural resource base of rural areas.
The scheme aims to create a sustainable and productive rural property base.
The main objective of this scheme is to strengthen democracy at the grassroots level by strengthening panchayat raj institutions.
Characters employed under MNREGA scheme
To get the benefit of this scheme, it is necessary to be a citizen of India.
Workers must be at least 18 years old to get employment through this scheme.
In this scheme only the local laborers will be given work. For this, the workers will have to give their address proof.
The gram panchayat should know about the compulsion to get employment under the MNREGA scheme.
To get employment under MNREGA scheme, it is necessary to have a bank account. Because the wages received under this scheme are now being transferred directly to the bank accounts only.
The benefit of MNREGA scheme will be given to the same workers who are living below the poverty line! For this they need to have a BPM card.
Also Read : What is Startup India
Application process for MNREGA scheme
The process of application is very easy to get the benefit of this scheme.
To get the benefit of this scheme, you have to get a form from Gram Panchayat.
You can also download the form by visiting the official website of the government, https://www.nrega.nic.in/
After downloading the form, enter the required information on it. Your name, age, village, gram panchayat and block name will have to be mentioned on the form.
It is also necessary to put a photo of the head of the family on the farm! And the signature of the chief is also necessary.
Then attach all the documents with the form.
Documents like Aadhaar card, Voter ID card, BPL card, residence certificate etc. can be attached to the form.
After completing all the paper process, submit this form to your nearest Gram Panchayat.
Dear Reader,
Formal News has always strived hard to provide up-to-date information and commentary on Centre and State Government Schemes that are of interest to you, your family and your Society. We believe in free, fair and credible information.
Even during these difficult times arising out of Covid-19, we remain committed to keeping you informed and updated.
However, We have a request:
As we battle the economic impact of the pandemic, we need your support even more so that we can continue to offer you more quality content. Your support in the form of Donations will be encouraging for us. Your donation can only help us achieve the goals of offering you even better and more relevant content. Your encouragement and constant feedback can help us to improve our offering. We need your financial support. You can support us through the Patreon Link:
Become a Patron!